Written By Jamie Weaver From Sweet & Simple Elegance
Three Essential Tips To Prep For The Holidays
Thanksgiving. One word that can bring so many feelings of being grateful for the ones you love and cherish. The main goal of decorating your Thanksgiving table is to create an environment that will make your family feel comfortable with an inviting setting that will allow you and your loved ones to relax and reflect on what makes them thankful. These tips will not only help you prepare you for the craziness of Thanksgiving, but will allow you to enjoy, be energized, and be equipped with the power to tackle the day and still treasure your time with family and close friends. It all begins with the three Ps:
Plan 

Prepare

Prosper
Plan Your Thanksgiving Table In Advance
The best time-saving tip is to plan out your Thanksgiving table décor in advance. You can have your dining room table dressed days or weeks before you even grocery shop for the Thanksgiving dinner. Not only will that set the mood for preparations, but it will also be so inviting for your family. A dressed table brings warmth and love. 
When designing the layout of your table, you want to determine the invisible line. The invisible line will appear when you either "cut" the table in half or in thirds with your eye. If you have trouble, you can lay out painters tape which will give you exact dimensions. This ultimately makes sense when measuring the length or diameter of your table. If your dining room table is circular, you want to create a design with one focal point that looks up. However, if you have a rectangular table, you want to "spread the wealth" in two or three sections of the table. 
When selecting fall decorations, look around your room, and identify the main colors you would like to use. If your decor has cool colors, add a little warmth into the design, and the opposite advice if you have mainly warm colors.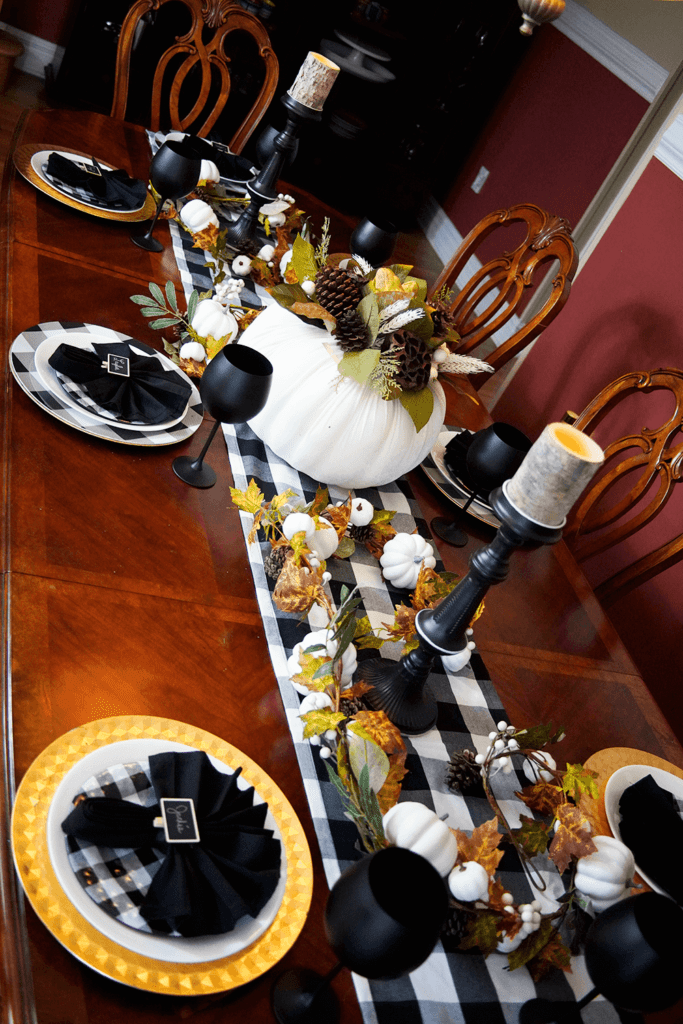 Next, get in on the latest trend by incorporating metallics or wood features around your table design. This will not only provide different textures, but will also help your design to pop. 
Second, your main Thanksgiving dishes should be white. White plates are a versatile, cost-effective way to add different design features that will not break the bank. Simply add different chargers, patterned small plates, and napkins that you can change seasonally. It will not only add to your table, but will freshen up the look without burning a hole in your wallet. 
Lastly, do not be afraid of bold decor. You want your table to make a statement as it is the centerpiece of your house and have your guests be awed by your breathtaking design. So, be creative. Incorporate the patterns, metallics, and wood features because it will not only be inviting, but can be a conversation piece, and you can sit back and relax knowing you created a space for everyone to feel loved and cherished. 
Preparing For Thanksgiving Meal
Now that you have your Thanksgiving table checked off the list, it's now time to prepare for the meal. When it comes to holiday planning, it's the little details that make the day special. Look at your centerpiece, and identify ways you can incorporate it when preparing for your meal. Select certain serving dishes to enhance your design when serving your dinner. I love using white dishes because I can include a variety of decorations, and I can use them all year long. Try also having one area to serve your main Thanksgiving dinner. Then you can leave your table decor in place, and don't need to worry about moving different pieces. An island or a serving table works perfectly. 
Lay out your dishes the night before Thanksgiving Day, and create little labels to identify where each food item will go. Then you already delegated areas for your family members to help you, so you don't have to make last minute decisions that can cause trouble for you in the end. 
If you have young children who would like to help, have them design or create food labels for the day. They can use the labels that you made yourself and design their own. This not only gives your young ones a special task, but they will also feel a part of the "big day". It may even encourage them to eat their Thanksgiving meal, if they are picky eaters like mine.
Prosper: Create a Holiday Theme Throughout Your Home
Good designs incorporate different elements of decor, but target one specific area in your home. However, great designs integrate similar design patterns in many different areas in your home—matching decor throughout your home creates flow and purpose. Try to bring together the same patterns, metallics, and wood features in your three main living spaces: the kitchen, dining room, and living room. You can easily use table runners, pillows, blankets, and small tchotchkes to inexpensively create an environment that flows throughout your main living spaces. 
Make sure to also create a cozy space to relax and visit with your family and friends before and after the meal. It's important to make all your guests feel comfortable and to be especially mindful of older relatives. An UltraComfort power lift recliner is an excellent chair to have to fully relax and rejuvenate your body during the holidays and help those who may need it get in and out of the recliner with a gentle lift option.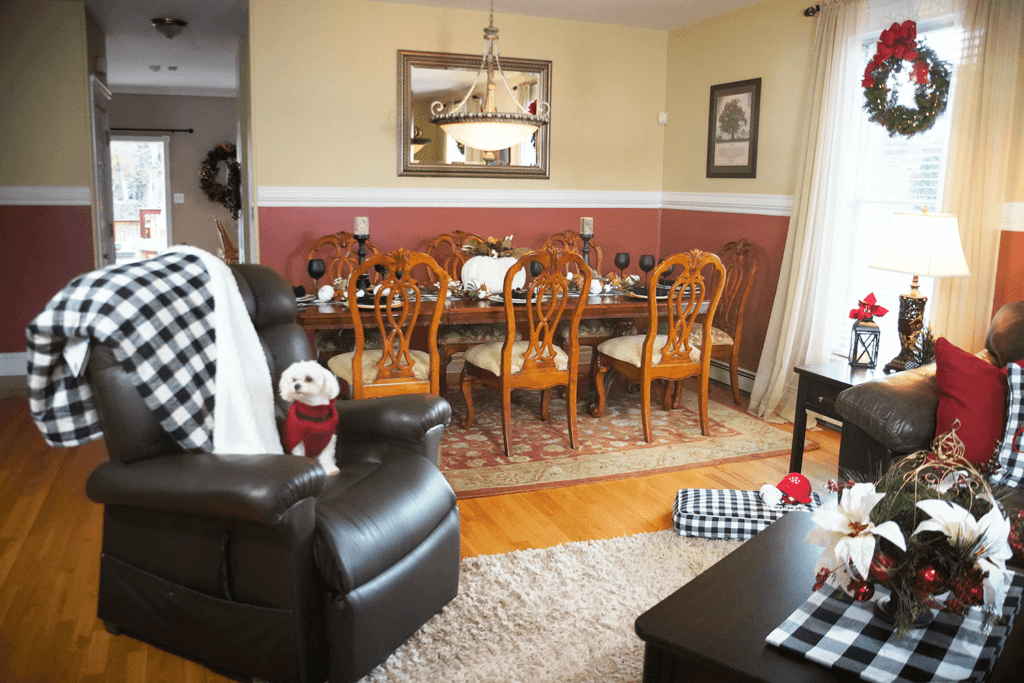 Then embrace the prosperity of the moment. This is the time you can sit back, pick your feet up, and be proud of yourself for your design. You were able to create an environment where your family felt comfortable and relaxed. You will feel good knowing that you not only followed the three Ps, but also created a day that your family was able to be together, bond to form closer relationships, and show how grateful they are for each other. Have a safe and happy Thanksgiving!